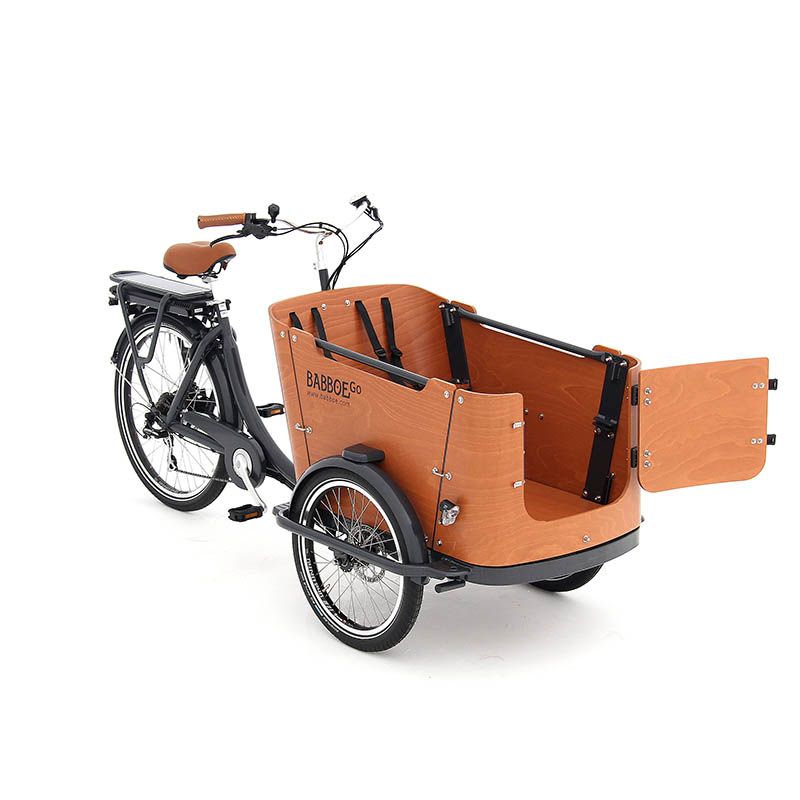 Babboe Go
Stable and luxurious cargo bike including lockable door and three wheels
Babboe Go | a cargo bike for kids and dogs
The design of the Babboe Go is based on the Babboe Curve model, but it has an added feature: a handy door at the front of the box. That makes this stable three-wheel cargo bike perfect for a family with a dog, for example. The small door at the front makes it very easy for a dog to step into the box. But it's also fun and convenient for kids to use the small door when getting in. The box is suitable for 1 or 2 children + a dog (or even 2 small dogs). The box has 1 bench for 2 children.
Babboe Go
2

Children + Dog

1

Bench

215

cm

Length

89

cm

Width
Babboe Go fans
Share your #babboemoment with Babboe!
Configure your Babboe Go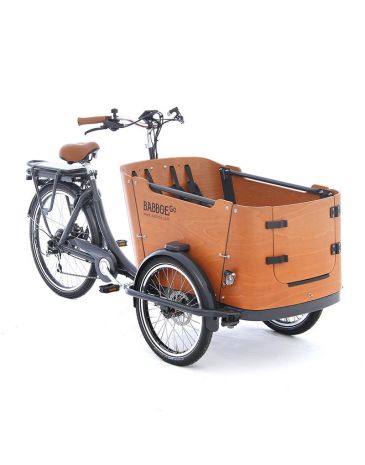 Safety first
SGS & TÜV Certification

Safe three-point belts

Extra wide tires

Safe parking brake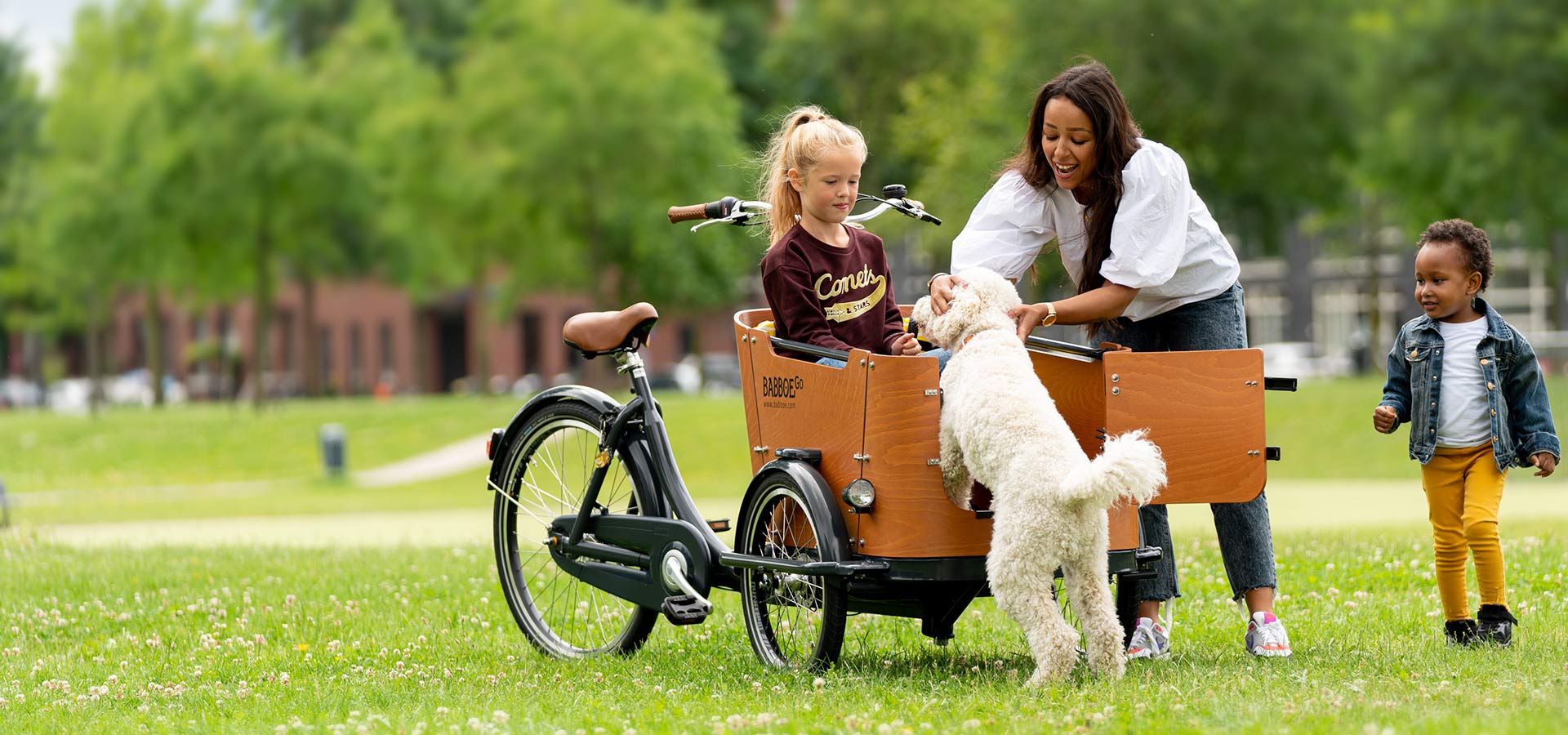 Babboe Go, stable and luxurious cargo bike including lockable door
Ideal for a family with a dog
Door in the box - Handy step for children and dogs
The small door is what makes the Babboe Go truly unique. Children no longer have to climb into the box and think it's great to use the door to get in and out. The box now feels even more like a tiny house on wheels! And dogs of any age can effortlessly get on board.
Parking Brake - Quick and easy parking
The Babboe Go is equipped with a special parking brake. This allows you to park the Babboe Go easily and quickly and prevents the cargo bike from slowly rolling away.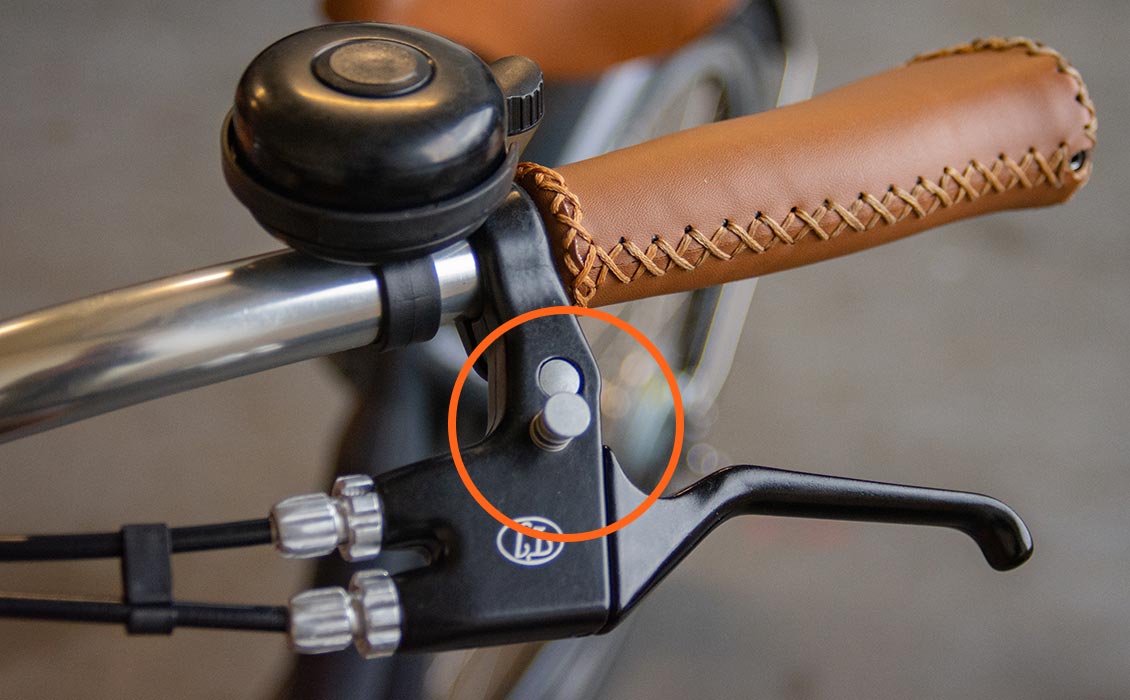 Steering dampers - A pleasant and safe ride
Steering dampers ensure that the Babboe Go continues straight on, even when you're not steering. They prevent the handlebar from abruptly moving back and forth, offering a smooth, gradual movement instead. Moreover, steering dampers absorb bumps in the road.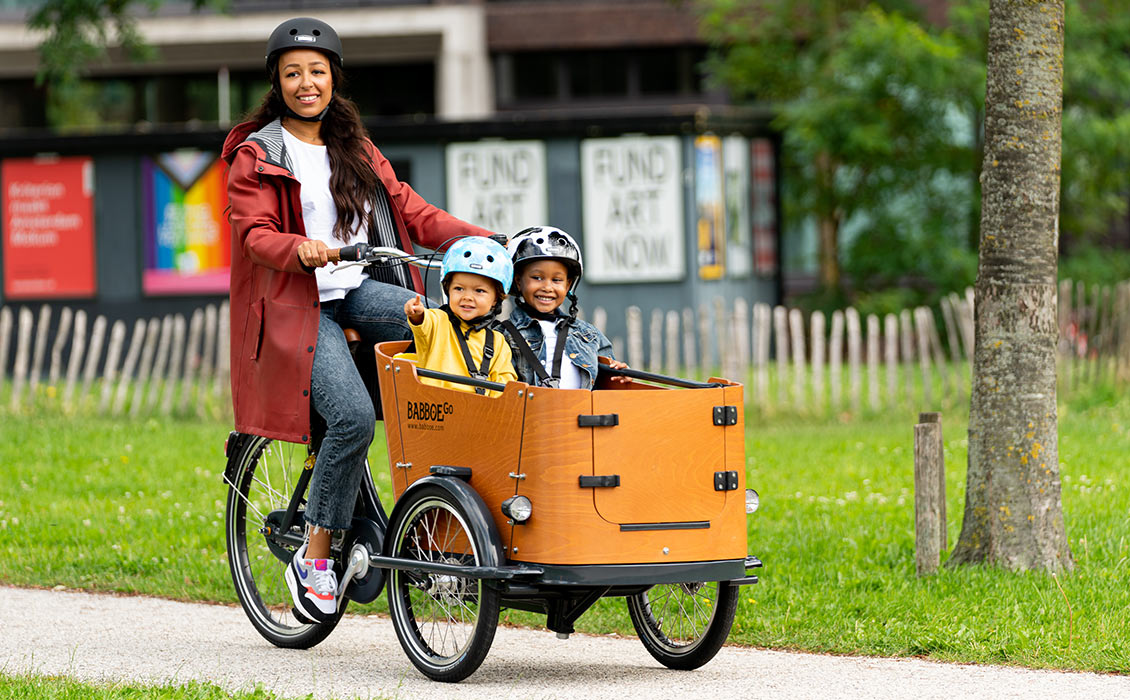 Compare the Go cargo bikes:
Electric cargo bike

Electric cargo bike
Electric cargo bike
Non-electric cargo bike
Luggage carrier

No
Yes
No
Lighting

LED lighting via battery (front and rear)
LED lighting via battery (front and rear)
LED lighting on batteries (front and rear)
Type of gear

Stepless hub
Derailleur
Hub
Battery location

Under the bench
Under the luggage carrier
Motor position

Midmotor
Rear wheel motor
Motor technology

Yamaha
GWA
Force (Nm)

70
40
Type of sensor

Power and speed
Rotation and speed
Environment

Rolling roads, Hilly roads
Flat roads, Rolling roads
Flat roads
Babboe Go must haves
Discover our featured Go accessories
View them all
Want to know more about your Babboe Go?
Babboe Go accessories
There are several accessories available for the Babboe Go, such as a baby seat, toddler and little kid seats, different cushions for the bench and a cover for the box. A dog cushion and anti-slip mat are also available. A rain tent is being developed and will soon be available as well. It is not possible to install a Maxi-Cosi carrier in the Babboe Go.
If you want to see which Babboe Go models are available in our assortment, please click the button below.
Babboe Go - get in and let's go!
Our customers' questions inspired the development of the Babboe Go. We were receiving questions asking if it would be possible to put a door in the cargo bike's box. It is possible: the Babboe Go is now available!
The rounded design is obviously very characteristic of Babboe, but the small door is what makes the Babboe Go truly unique. Kids love being able to get in and out of the box on their own. The box now feels even more like a tiny house on wheels! And dogs of any age can effortlessly get on board.
In addition, the Babboe Go has luxury steering dampers, extra thick spokes, three-point belts, disc brakes, a parking brake, two headlights, and 7 gears.
Electric cargo bike - the Babboe Go-E
The Babboe Go is also available as an electric cargo bike, just like our other cargo bike models. In addition to the 7 gears, you'll find a motor in the electric cargo bike's rear wheel. The Lithium-ion battery can be easily charged at home or on the go and will provide electric assistance for about 40 to 60 kilometres. The pedal assistance is only one of the reasons why the Babboe Go is a great, green alternative to the car.
Purchasing a Babboe Go
All Babboe cargo bikes are available to purchase online, that's how we keep our cargo bikes at an affordable price. Our collaboration with major partners also allows us to offer the best promotional prices, without compromising on quality. And, because we are so convinced of the quality of our cargo bikes, Babboe customers receive a 5-year warranty on cargo bikes. Interested?
Testing a Babboe Go
Experience for yourself how much comfort a Babboe cargo bike offers before purchasing one. Take it for a test ride at one of our ambassadors.