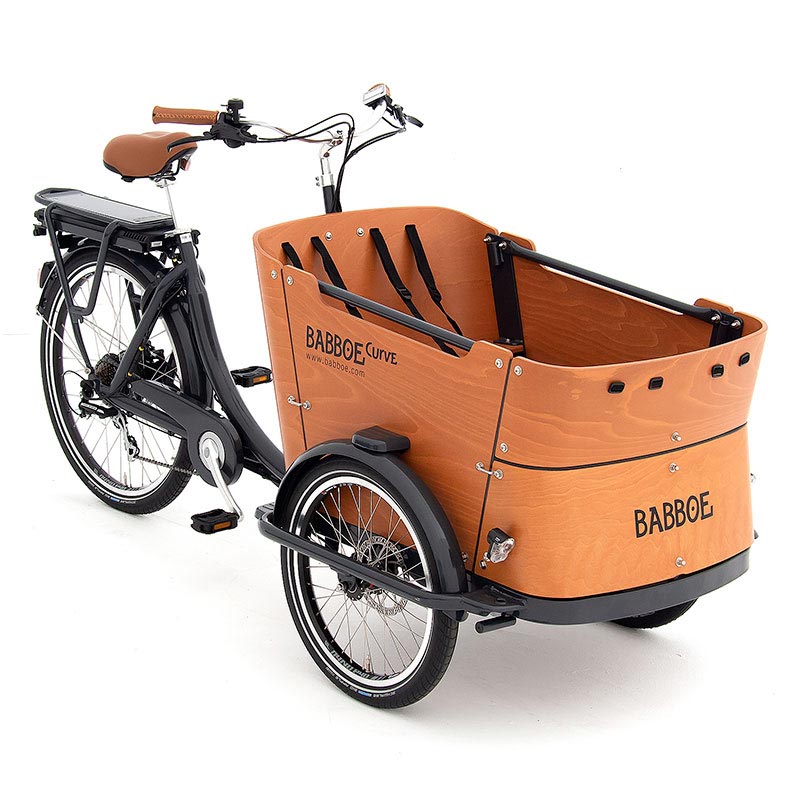 Babboe Curve
Stable and luxurious cargo bike with three wheels
Babboe Curve family trike
The Babboe Curve owes its name to its modern, curved shapes that provide this box tricycle with a contemporary feel. The box offers room to 4 children. A Maxi-Cosi carrier can also be installed, leaving room for 2 children. The Babboe Curve has steering dampers, anti-tip system, extra thick spokes, 3-point seat belts, rollerbrakes and parking brakes, double headlights and kid steps.
Babboe Curve fans
Share your #babboemoment with Babboe!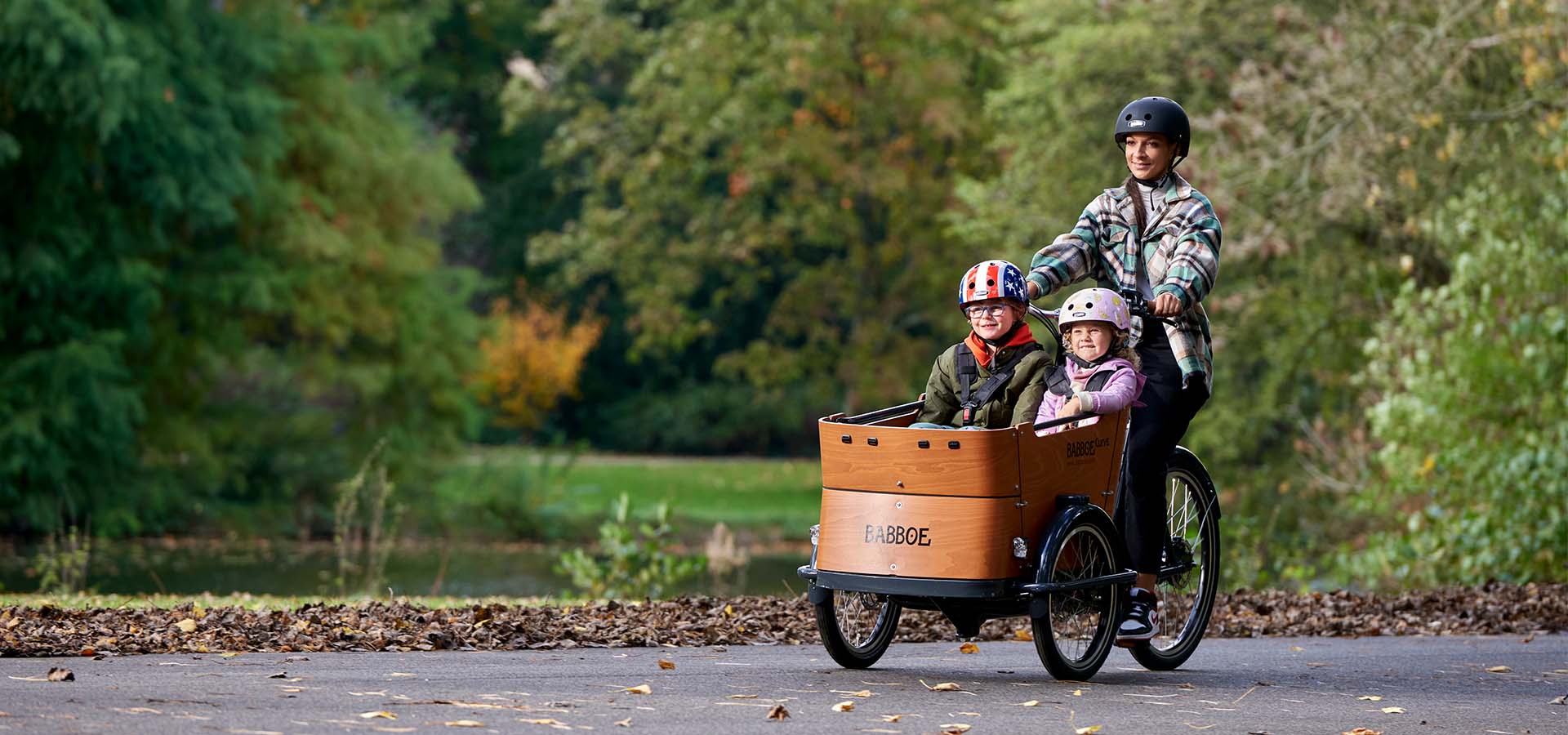 Babboe Curve, stable and luxurious cargo bike with three wheels
Modern trike with high quality for an affordable price
Child friendly steps - Getting in and out with ease
With the child friendly steps on the sides of the box, your children can safely and easily step in and out of the cargo bike. In addition, the steps ensure the box drains properly.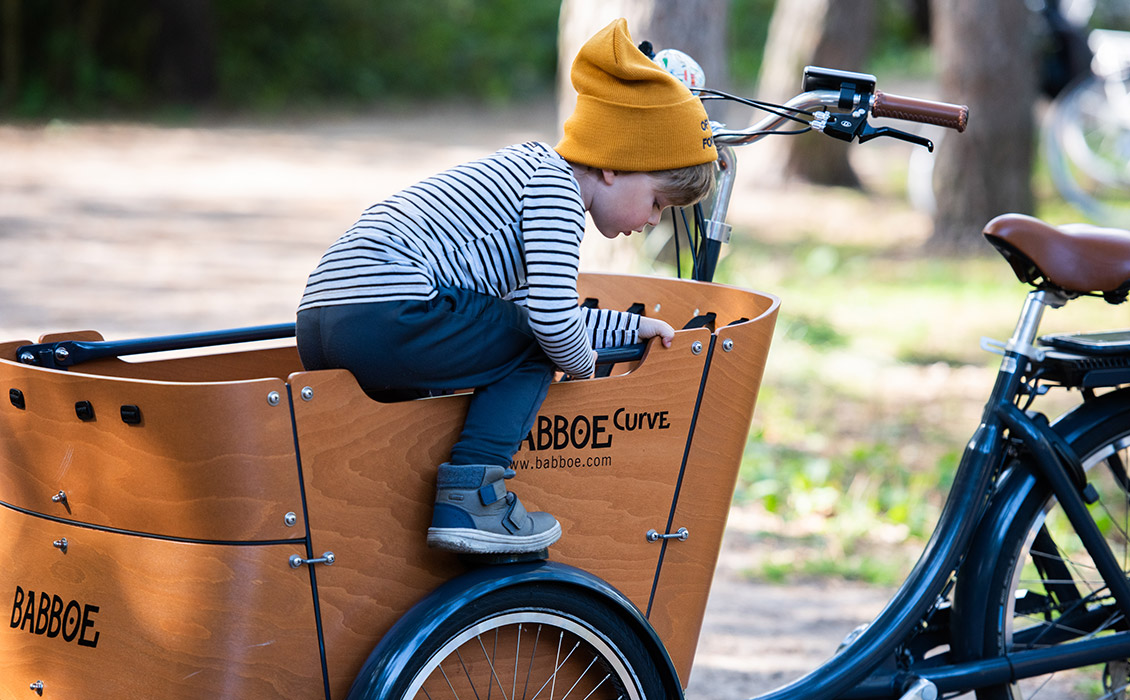 Parkeerrem - Eenvoudig en snel parkeren
De elektrische Babboe Curve is voorzien van een speciale parkeerrem parkeer. Hiermee parkeer je de Babboe Curve-E eenvoudig en snel en rolt de bakfiets niet langzaam weg.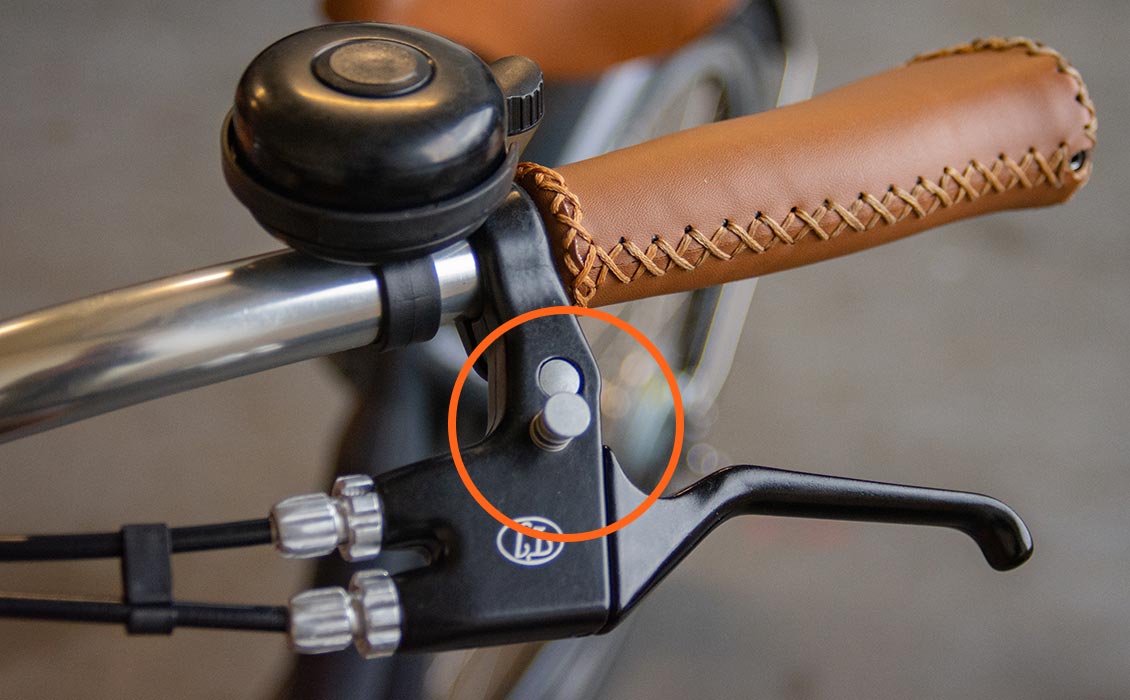 Parking brake - Quick and easy parking
The Babboe Curve Mountain is equipped with a special parking brake. This allows you to easily and quickly park the Babboe Curve Mountain and prevents the cargo bike from slowly rolling away.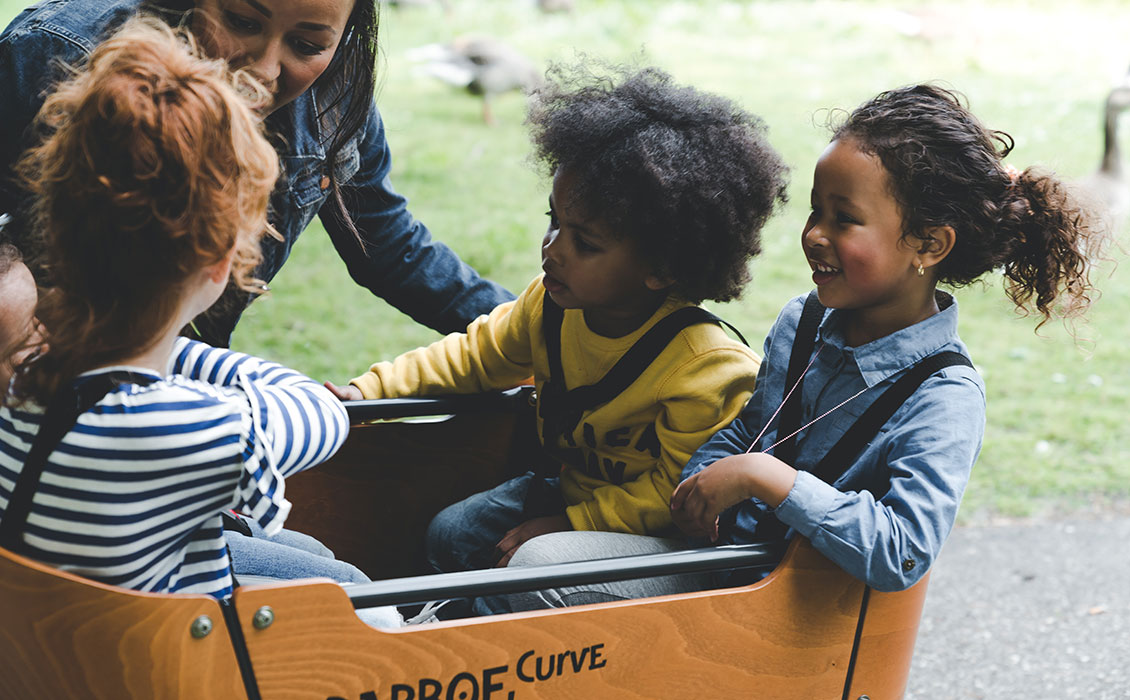 Yamaha mid-drive motor - Experience natural pedal assistance
With the Enviolo (Nuvinci) stepless shifting system and the force sensor, the powerful Yamaha mid-drive motor adapts the amount of assistance to your own leg power, as if you're doing all the pedalling by yourself.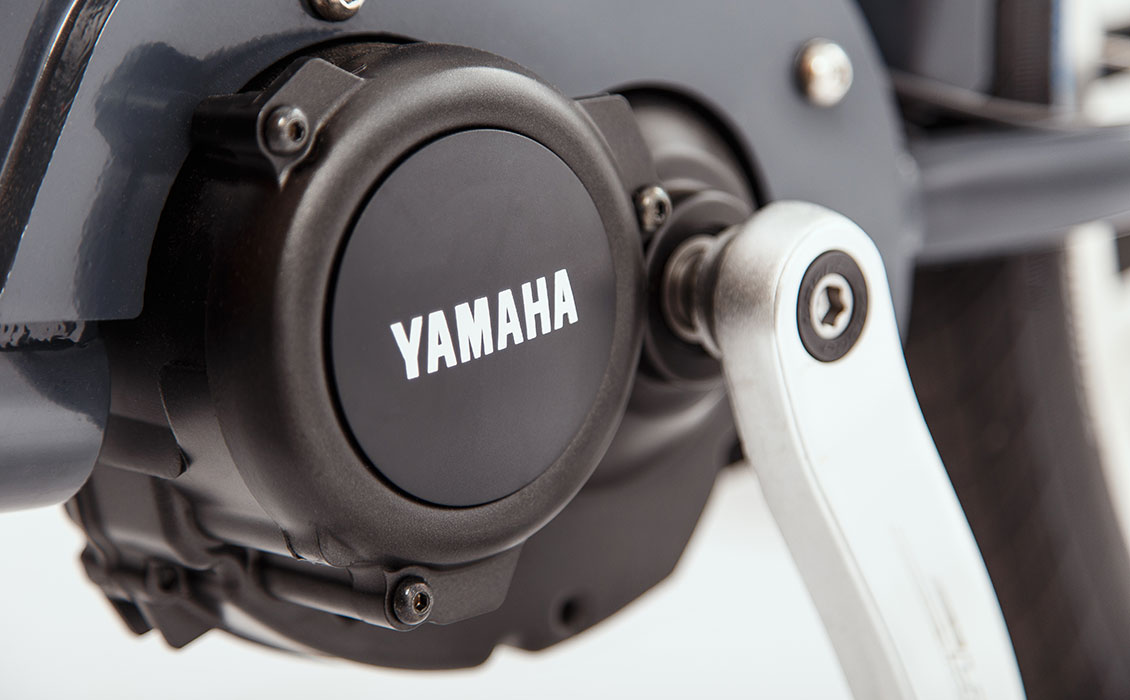 Compare the Curve cargo bikes:
Babboe Curve Mountain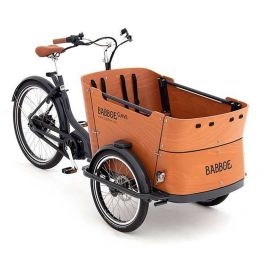 Babboe Curve-E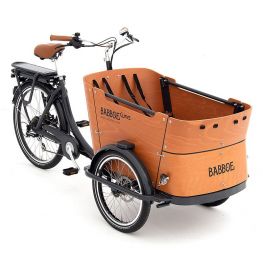 Babboe Curve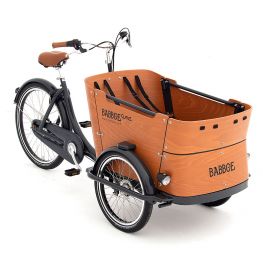 Electric cargo bike

Electric cargo bike
Electric cargo bike
Non-electric cargo bike
Luggage carrier

No
Yes
No
Lighting

LED lighting via battery (front and rear)
LED lighting via battery (front and rear)
LED lighting on batteries (front and rear)
Type of gear

Stepless hub
Derailleur
Hub
Battery location

Under the bench
Under the luggage carrier
Motor position

Midmotor
Rear wheel motor
Motor technology

Yamaha
GWA
Force (Nm)

70
40
Type of sensor

Power and speed
Rotation and speed
Environment

Rolling roads, Hilly roads
Flat roads, Rolling roads
Flat roads
Featured accessories Babboe Curve
Want to know more about your Babboe Curve?
Babboe Curve | Modern box tricycle
The Babboe Curve cargo bike is a contemporary 3-wheel cargo bike with the highest quality standards at an affordable price. An elegant three-wheel cargo bike with a beautiful luxury design with enough space for up to 4 children. A cargo bike that will impress!
Electric Babboe Curve | Family trike with electric pedal asssistance
Just like our other cargo bike models, the Babboe Curve is available in an electric version: Babboe Curve-E. This family trike features 7 speeds and a motor in the rear wheel. The lithium-ion battery can be easily charged at home and will provide electric assistance for about 24 to 37 miles. The pedal assistance makes this box tricycle a great green alternative to the car.
Babboe Curve Mountain | Powerful electric cargo bike
The Babboe Curve Mountain lives up to its name; no mountain too high for this cargo bike, thanks to the powerful Yamaha mid-drive motor and Nuvinci stepless shifting system. Even with 4 children in the box, you will have no problem riding around in hilly areas. This box tricycle is also ideal for covering longer distances.
Buy a Babboe Curve | Make a test ride
Babboe cargo bikes are mostly sold online, that is how we are able to keep our cargo bikes at an affordable price. We believe in the quality of our family trikes, that is why Babboe offers its customers a 5-year warranty on cargo bikes. Would you like to enjoy a test ride on a Babboe Curve? Stop by at one of our test locations and give it a go!